Other Services:
List verification: send me your child's list and I will emboss it with Christmas List Received And Reviewed By Santa Claus (see photo) and return it to you with a short handwritten note. Some people put the list on or under the tree with Santa's gifts.
The embossed stamp is approximately 1 1/4 inches across.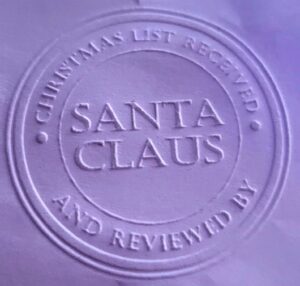 Prerecorded message: You send me information (name, age, likes etc.) and I record a short video or audio message to your child(ren). It takes a couple days to schedule and will be sent to you via email. Last day to request a recording December 19th.
Caught in the act video: During the week before Christmas (so you have most of the gifts wrapped) I come to your house when the children are not there and you record me leaving the gifts then you show it to the children on Christmas morning. You just need to place your phone/camera in the same place Christmas eve as where we record the caught in the act.